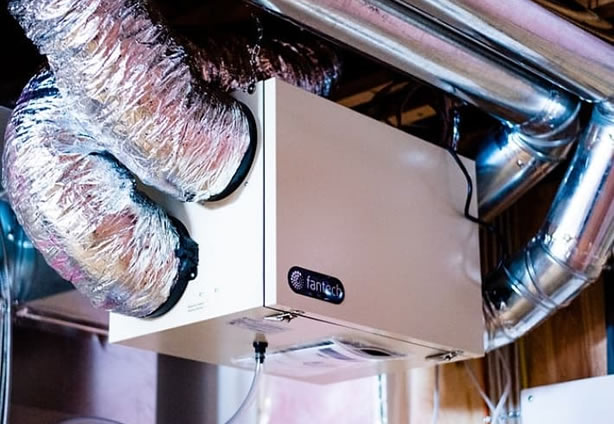 What is an HRV?
One of the most common questions we receive among homeowners is, "what is an HRV?" An HRV, or heat recovery ventilator, essentially brings fresh air into your home like an open window.
New construction homes are required to be air-tight so when you add everyday tasks such as cooking or showering, moisture begins to build and the home can become ground zero for mold, mildew or bacteria. When air becomes stale, what do we do? Well, if it's a breezy summer day we simply open some windows, but what if it's cold? Some might turn on exhaust fans which can remove moisture from the kitchen or bathroom, but that will create a negative pressure.
An HRV provides balanced ventilation. It contains two separate fans - one to bring fresh air in while the other pushes stale air out. Since the air coming in from outside can be cold depending on the season, you're probably wondering how it warms up. An HRV uses the heat from the stale air being pushed out to warm up the fresh air coming in. Hence the term 'heat recovery'. It can recover as much as 85% of your lost heat and provides filtration for the incoming air to remove dust particles and allergens.
HRV installation is required in new homes by code and we couldn't be happier about that. Not only is it effective for moisture balance, odor control, and overall HVAC efficiency, it completely eliminates the need for bathroom fans.
However, this brings us to a much deeper and more opinionated topic… installation. There are three common ways to install an HRV. We can't really call them right and wrong because they will all pass code, but we're going to give you our professional opinion.
Option #1
Over the years, we've seen many HRV's that are completely tied into the furnace. This method is seen quite often because it's faster to install, less expensive, and it passes inspection. Does that mean it's better? Absolutely not. The HRV will remove stale air from the return air duct and replace it with fresh air, into the same return air duct less than 10 feet away. It requires the furnace fan to run at the same time as the HRV and highly decreases efficiency.
Option #2
Another common way to install an HRV is by tying the supply run into the return air duct. This method removes air from the bathrooms, kitchen and laundry room and puts fresh air back into the duct. While this does provide more efficiency that option #1 and costs less than option #3, it does not offer optimal air distribution. It too requires the furnace fan to run more frequently, limiting efficiency and using additional electricity.
Option #3
An HRV is a mandatory investment with new residential construction, and homeowners deserve to enjoy the comfort of its performance and efficiency. Therefore, we install it with an independent ducting system. By doing this, the HRV takes the moisture filled air from the bathrooms, kitchen, and laundry room and distributes fresh air throughout the rest of the home (ex. living room, bedrooms, ect.). It takes roughly an extra day on the installation, but it guarantees optimal airflow and allows the HRV to function the way it's designed to. Not only is this the most efficient approach, it improves indoor air quality, lowers energy costs, and can help to overcome moisture related health or structural problems. Homeowners deserve nothing less and with years of experience, this method of installation has proven its value and success.
At the end of the day, code isn't always enough and cheaper isn't always better. When customers welcome us into their home, we value the work that we do as if it was our own. Installation of your HVAC equipment should be done correctly the first time, and we hope this blog inspired you to stay informed!